This page provides updates on China weather and air quality. More precisely that of our eastern office location , Shunyi [adjacent to Beijing Capital Airport] Beijing.
Updates for other China [or worldwide] cities can also be tracked in the app. Simply change the location to which ever city you want China air quality or weather updates for.
Being a largish country, weather and air quality can obviously vary across the land. Indeed although Beijing is thought of as one city, its sheer size means that both weather and air can vary from east to west. Or north to south. What might be fine, sunny and clear in one suburb or district may not be so in another.
Consequently a wise traveller would pack a facial mask – one with excellent PM2.5 protection. An even wiser one would carry it in her pocket or purse, just in case. Also, please bear in  mind the app is generally an hour behind reality. By this we mean the 4PM reading is not updated until circa 4-25. So, use the app in combination with your own common sense. If the sky looks dark, greyish, and the outline of buildings across the street is hazy- use a mask.
A quick note to the weather app
This is provided courtesy of Booking.com, links go directly to their site.
Again- like most weather forecasts, it is very general, and sometimes right. Sometimes horribly wrong. Beijing in particular can suffer from 4 seasons in a day. Use your nous. If the street is wet, sky is dark pavement is flooded- you need your brolly. Even if the app says the sun is shining.
There is good news for those who are used to freezing rain in winter. In Beijing and some other northern cities it rains in summer.  More like a warm shower. So expect the humidity to sky rocket once the rain stops.
For your added convenience we have also included a link to a currency converter. Because we are nice guys.
No, seriously being forewarned and armed with current, cutting edge data is vital to survival in China. This applies to business data as well so please check our real time  China news and trends updates.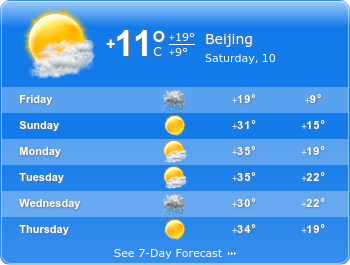 Image of rainy day in Shanghai courtesy of: Nuno Alberto